Nine times out of ten, where is the first place a potential buyer will see your home? You guessed it – in a photograph! Whether it be online through a laptop screen or mobile phone, or on the street in an estate agent's shop window, that small viewing frame should be treated as the place to showcase all the best angles of your home and have people longing for the lifestyle they see at the end of the lens.
This, of course, applies to any house marketing photography. But with a high-value home, that features plenty of space and unique aspects, going above and beyond standard imagery will really set your house apart. And that's where our expertise is on hand to help!
Differentiating your house from the rest of the market with creative and considered expert photography is our speciality. So, we've collated our best ideas for how to showcase your home in – quite literally – the best light!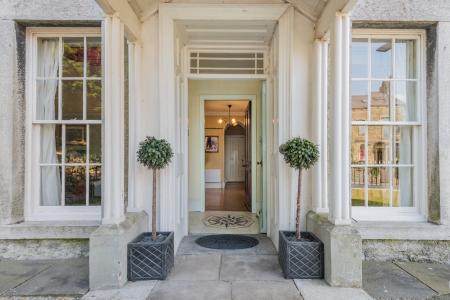 Prep the space
Any professional photographer knows that before the shutter clicks, there's an element of house preparation required – and this involves a little help from the homeowner. So, to provide the photographer with a clean slate on which to work their magic, make sure the house is spick and span, both inside and out. In your outdoor area, clear any vehicles and bins out of shot for the day, use a bit of elbow grease on the windows to get them sparkling, and make sure the lawn is mowed and any weeds are removed.
Next, turn your attention to the inside of your house. After tidying the rooms, consider giving lacklustre walls and any worn-out furniture a fresh lick of paint. Studies show that decorating can make all the difference in the eyes of a potential buyer and will add up to 5% more to your home's value. This is definitely something that a top-quality camera will highlight on screen too, so you can be sure it's well worth going that extra mile.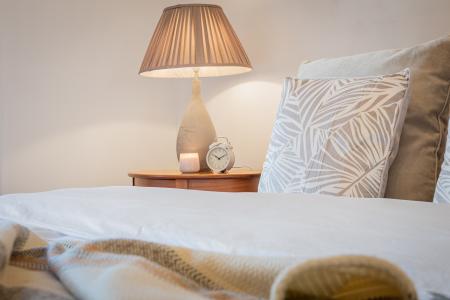 Set the scene
Subtle styling and expert photography go hand in hand, especially when it comes to lifestyle imagery. Considered style choices will help to establish that emotional connection between the house and a potential buyer, enabling a thoughtfully framed lifestyle shot to provide a welcoming feel and give people a chance to truly envisage themselves in the space.
So, once the house is prepped, you and the photographer can work together to add a few stylish touches to really give your home a lived-in – but carefully curated – look. Bring colour to the kitchen with fruit-filled bowls, set the dining table with your best crockery, hang fresh neatly folded towels in the bathroom, place fresh blooms in coordinating vases onto sideboards, and cosy up the bedroom with luxurious woven throws and scatter cushions. These style-savvy touches will highlight the real potential of your home in imagery and give it a well-loved feel. For outdoor specific styling advice, visit our garden blog here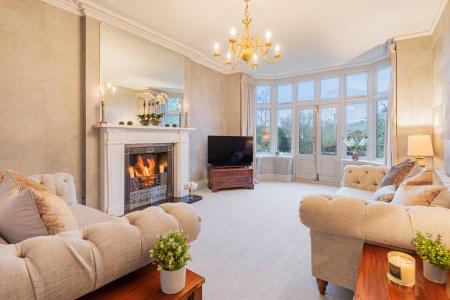 Get the light right
Cold or clinical lighting is something to avoid when it comes to home photography, especially with a sizeable one that might look unwelcoming as a result. So, making sure the mood of the rooms are set to warm and inviting is key. This atmosphere can be achieved with photos taken on a dry day at around dusk to cast a naturally soft and calming glow.
However, we know relying on the weather – especially British weather – isn't an ideal option! So, you'll be pleased to know that this isn't the only way to capture the warm and welcoming look. Today's post-production technology is your friend in this scenario. With a combination of accent and ambient lighting switched on around your home as well as an arsenal of subtle sepia-tinted filters, professional photographers can easily craft that sought-after early evening glow.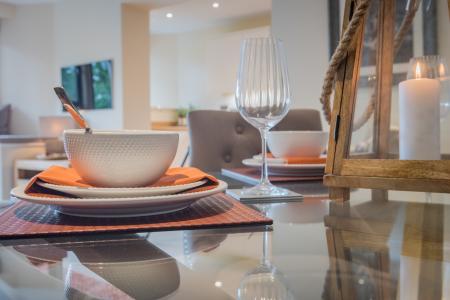 Capture the scale
Framing a shot to reveal the true size of your home is crucial when it comes to giving an accurate depiction of the space – and there are a few clever hacks to capture it. A whizz with full-frame cameras and an ability to experiment with varying perspectives, an expert photographer will have all the necessary equipment to hand to ensure large rooms and outdoor spaces give viewers a real representation of your home's footprint.
Showing where your house is situated in its surroundings is also a great way to indicate the true length and breadth of your home. So, if you live on a hilltop with plenty of countryside around, or you want to show the size of your garden by highlighting boundary hedges and fences, then elevated photography, perhaps with the help of a drone or aerial mast, is another useful route to take.
Framing shots from a higher perspective will give scale and dimension to your house and highlight your proximity to stunning views or local Amenities that may otherwise not be realised. In the eyes of a potential buyer, elevated photography can take a modest cottage to a rural marvel, or a humble townhouse to the heart of a historic centre.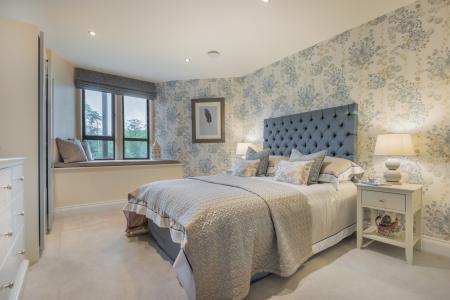 Show the local area
Location, location, location – we can't emphasise this enough! When investing in a new home, most people aren't only interested in the house itself, but also in the place that surrounds it – and rightly so.
Showcasing snapshots of the local area, whether it be well-known landmarks, a quaint nearby shop, pet-friendly parks, walking trails, or picturesque views, now is the time to bring all of these aspects together and paint a picture of what life could be like living in your home.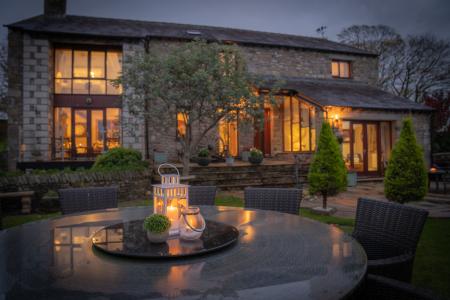 Would you like to find out more about the specialised photography services we offer? Or are you searching for more advice on how to prepare your home to go on the market? Whatever your query is, we're here to help! We're but a call or email away – simply contact us by phone on 01364 652652 or send us an email at katie@sawdyeandharris.co.uk and a member of our friendly team will be on hand to guide you.