Ashburton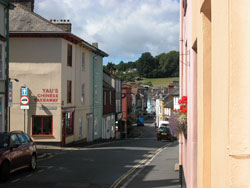 The ancient stannary town of Ashburton lies on the southern slopes of Dartmoor in the heart of the South Devon countryside. Ashburton benefits from excellent transport links being approx 7 miles from Totnes and Newton Abbot with their direct rail links to London Paddington and Plymouth. The town is also situated directly off the A38 Devon Expressway, giving easy access to Plymouth and Exeter which leads onto the M5 motorway.
Ashburton is known as one of the gateways to Dartmoor, and is an ideal base from which to explore the whole region from moor to sea. The town is located within the boundaries of the Dartmoor National Park which offers wide open spaces for scenic walks, riding, pony trekking, canoeing and fishing.
This town dates from Saxon times and has spread out from its centre along the courses of the little river Ashburn and its tributary, the Balland Stream. Spanning the centuries are many beautiful and intriguing buildings. Today, Ashburton is a blend of its richly historic past and its bustling, market-town present and offers a wide range of shops and facilities including both a Primary School and Community College, library and health centre.