Moretonhampstead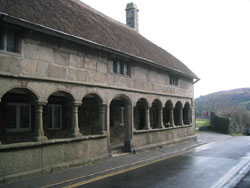 Moretonhampstead is an ancient market town situated on the edge of Dartmoor. It sits in the shelter of hills on three sides and the beautiful Wray valley on the fourth. Dartmoor is only 4 miles away and no matter which road you take you cannot fail to be impressed by the breathtaking views. The town is about 15 miles from Exeter, Newton Abbot, Okehampton and Princetown and is a perfect place from which to visit the moors, the Devon countryside and the seaside.
It began as a small Saxon settlement around AD 700 and the name is derived from the original Saxon Mortun meaning an enclosed piece of land near the moor. The addition of Hampstead came from one of the many Lords of the Manor much later on.
The town offers visitors' opportunities for hiking, cycling, and pony trekking, fishing and just relaxing. Within the town there is a good range of shops, churches, primary school, library, bank, swimming pool, inns and hotels and nearby is the Moretonhampstead Sports Centre fully equipped with a gymnasium, playing fields and manege for horse training.