We are well into the summer now and more than halfway through the year! As the old saying goes "Time flies" so, if you're thinking of making a move in 2022, we recommend that you start searching now so you can be moved in to a fabulous new home in time for Christmas.
But be aware, there is a lot that goes into a move, and several factors play into the total time it takes from start to finish. That includes finding a new property, getting your mortgage approved, undergoing building surveys, conveyancing and finding a good removal company to help you on the big day to name but a few things you are likely to need to sort out to get yourself ready.
On average it takes around 18 to 22 weeks for that all exciting completion day, which is around 50 days LONGER than in 2019.
With this all in mind, we have put together a few tips and tricks to ensure that your sale progresses smoothly and as quickly as possible!
1. INSTRUCT YOUR SOLICITORS EARLY TO GET SALE READY
One reason for long delays is that there is a backlog in the conveyancing processes (the process that deals with your contract, local searches and buying your new home. The middle part between offer being accepted to receiving the keys to your new house). Get yourself 'legally prepared' when your property hits the market and instruct your solicitor BEFORE you agree a sale. Then, whilst your home is being marketed, they can gather together all the necessary paperwork, so that when your house sale is agreed, your solicitors are ready to send the draft contract straight over to your buyer's solicitor. (This can speed matters up by up to 2 weeks).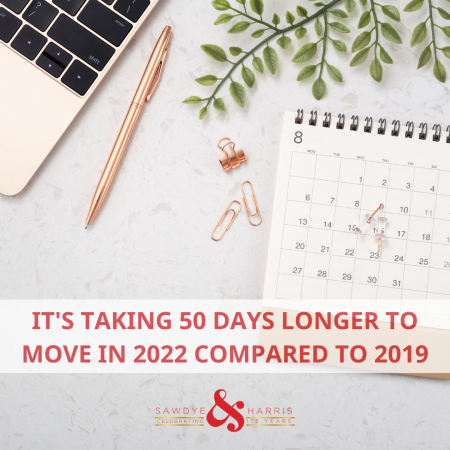 2. APPOINT AN 'ON THE BALL' FINANCIAL ADVISOR
One of the other delays in moving is often the mortgage offer! Lenders are becoming increasingly slow at carrying out their necessary background checks and surveys, especially since the recent interest rate increases. It can be frustrating when you're waiting for answers or left on hold trying to get through to the bank!
But working with an experienced financial advisor will ensure you get the best advice so that you have all the necessary information to hand when needed. They'll also be responsible for chasing the survey and mortgage offer, so you don't have to!
3. COMMUNICATION IS KEY
It can be very stressful moving house with many built-in uncertainties. Try and reduce your stress levels by not having unrealistic expectations about how quickly you can move. In almost every situation there will be something unexpected that comes up.
By using a professional, proactive estate agent, you will be notified of any delays within the chain of house sellers. It's our responsibility to liaise with the other estate agents within the chain, to ensure ALL the sales are moving at a similar pace and so that we can try to foresee any potential issues, which may delay matters.
Then, even where there is an additional delay, so long as everyone in the chain is aware of the reason, the stress levels will reduce and expectations are managed. Keep asking for regular updates and make sure your solicitor and other parties know your ideal completion timescale from the beginning. We liaise with all parties and keep you in the loop regularly and help to pave the way and ease the stress – we have all moved house ourselves having bought and sold so we understand exactly what it takes to smooth the move.
4. REMOVE THE STRESS OF REMOVALS
Don't leave it until the end of the process to shop around for removals. When the solicitors start discussing dates for moving into your lovely, new home, you don't want a last-minute panic about about researching the cost of packing and moving services. Get this information and a chosen firm sorted early. Your solicitor will then be able to advise when to pay the deposit to your removals company.
We are on hand to advise and guide you through the whole move, from start to finish and have created a handy guide of experienced professionals who we work with like solicitors, conveyancers, financial advisers and removals - -just ask us for your copy.

Interested to know MORE about the property market ? Or do you need other advice on how to prepare your home ready to go on the market? Either way, we'd love to hear from you! Simply call us for a chat on 01364 652652 or send us an email at katie@sawdyeandharris.co.uk. No matter what your question is, we're always more than happy to help