Whilst the market has been exceedingly buoyant and sellers have seen prices rise considerably when the market starts to change there is almost always a surge in reduced properties.
Many homeowners have been delighted with the rise in value of their beautiful homes. However, with this upside there can also be a downside. Whilst many have benefitted from an increased value of their home there have been some homeowners excited to get their property on to the market being flattered by an estate agent with a very high valuation. Whilst overvaluing is nothing new, this practice is becoming more common, leading to stress, heartache and untold frustration as a higher percentage of homes are now not selling AS QUICKLY – even with current market conditions - there are signs of more choice for buyers, with the number of properties coming onto the market for sale up by 7% compared to this time last year.
Overvaluing is being used more and more to get properties on the market. For estate agents, it's not sales that are the most important thing, it's having a healthy register of available properties and sadly many will tell you whatever you want to hear at the expense of giving you honest advice and guidance.
Without a constant stream of new listings for their website and the property portals, estate agents' enquiries can dry up. This can leave them with an out-of-date list of potential buyers. Overvaluing properties to get them on the market is a low-skill, unethical and yet highly-effective method of gaining stock.
The ramifications if it doesn't sell can mean price reductions and stale marketing periods often meaning properties can end up selling for less money than they would have sold for had they hit the market at the right price in the first place.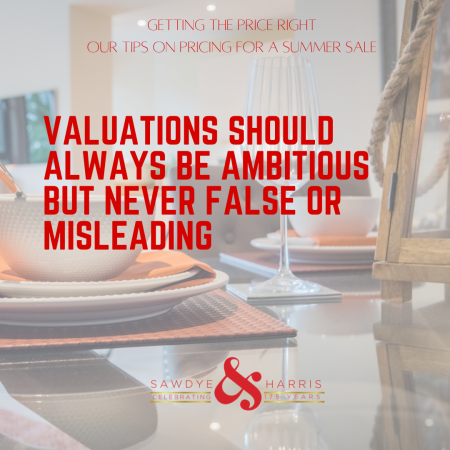 Consequences of asking too much:
Unrealistic expectations of your home's value can often make you feel angry and frustrated.
Time is vital when selling a property, an over valued property will not get the traction it deserves when it launches to the market. After time your home will become lost in the endless listings online. This can then also create the impression that something is wrong with the property.
Down valuation at the survey stage - there's a high risk of your home being down-valued by a mortgage lender or surveyor. This can lead to sales falling through or hefty renegotiations on your price that could threaten your purchase by shrinking your budget.
How to tell when a valuation is inflated
· The home is overpriced compared to neighbouring houses
· The price does not match the neighbourhood
· It has been on the market for a long time
· The home has too little viewings
· There are too many upgrades and home improvements
· The home's overall condition
What can you do to overcome this ?
It is worth doing a little of your own research on the estate agent to see if their performance matches what they're telling you:
● How many sales do they achieve at the asking price or above?
● How many of their listings have been reduced in price before they have sold?
● How long are their homes on the market before going under offer?
● What percentage of their properties get withdrawn?
If you do decide to go with the estate agent who has valued your home the highest, here are a few tips for you:
1 - The average time to agree to a sale is currently around four weeks. You don't therefore need to sign up to a long contract. Check your notice period and get all agreed changes in writing.
2 - If an agent truly believes their high valuation is achievable, they'll have no trouble amending their terms. If they insist on signing you up for several months, you'll have an insight into how confident they really are.
3 - Agree a weekly catch up or check in call so the estate agent can update you on interest in your home.
4 - Make sure your agent provides you with a Marketing plan - this should be bespoke for your home and illustrate how your home is going to be marketed.
5 - Insist on quick feedback after viewings - this way you will be able to react and adapt your marketing to reflect the up to date response from potential buyers who usually are not backwards in coming forwards with constructive criticism !
6 - Continually refresh your marketing, make sure you estate agent is proactive in taking new photos and keeping your home fresh in the minds of buyers.
And if you are on the market and feeling a little disheartened by your result, be encouraged by the fact that there are plenty of things you can do to make your home much more saleable – with the right agent on board. The important thing is that you take action right away. If you don't, your home will simply sit on the market, leaving it at risk of possibly going 'stale', which is likely to reduce your chance of getting a good sale price. When buyers see the same home being advertised in the same way, week after week, it gives the impression that something isn't quite right.
We can assist in reviewing your marketing and give you our expert opinion on what needs to be done to secure a successful sale at the right price. Once we have met with you we will come up with a bespoke marketing strategy that focuses on promoting all the best features of your home and relaunch it onto the market in style!
If you would like to find out how we can help you and your home get the sale you deserve, just give us a call on 01364 652652 or 01626 852666 or email me at katie@sawdyeandharris.co.uk and I will get right back to you.