The Guild of Property Professionals Member, Sawdye & Harris was presented with two prestigious accolades at The Guild Awards ceremony, which was held at QEII Centre in Westminster, London on 17 January 2019.
The Guild Awards were presented by British TV presenter, Rachel Riley and Iain McKenzie, CEO of The Guild, after a full day at The Guild Annual Conference, where new strategies, services and plans were revealed to keep Guild Members at the forefront of the industry. Estate agents also heard from motivational keynote speakers and property industry experts.
The Guild Awards were sponsored by The Telegraph, who commented: "As the UK's best-selling quality daily newspaper, The Telegraph is looked to by its readers as a trusted source of expertise. It is therefore fitting that we are able to celebrate excellence in the property industry by sponsoring The Guild of Property Professionals Awards."
The Guild Awards 2019 were also presented in association with The ESTAS and the ceremony was sponsored by Reapit, a CRM and Client Accounting software provider specialising in the residential sector. The ESTAS are awarded based on customer surveys regarding the agent's service – these scores contribute to the decision of The Guild Awards judging panel when selecting winners.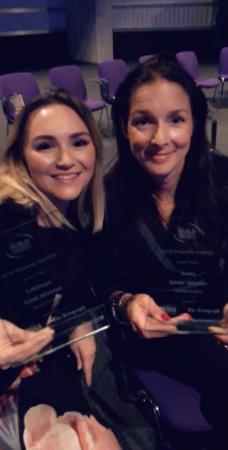 Sawdye & Harris were proud to be chosen to receive not one but two awards, which were collected by Katie Griffin and Jade Crouchen, on stage at the QEII Centre in front of nearly 500 estate agents.
"We are thrilled to be recognised for our hard work and dedication over the past year. This award is a culmination of our efforts throughout the last 12 months and a symbol of our commitment to excellence within the property industry," said Katie Griffin, Owner of Sawdye & Harris, "All our hard work has paid off and with our clients providing testimonials and feedback, a bit like TripAdvisor, it has allowed us to really show what a professional and exceptional service we offer and why you should use a high street, Guild estate and letting agent"
Iain McKenzie, CEO of The Guild of Property Professionals, said: "The Guild Awards is a much-anticipated fixture on our calendar, and this year's event was another huge success. It was great to be able to get together and celebrate excellence within our network. Congratulations to all agents and offices that received awards this year, and all the best for 2019."