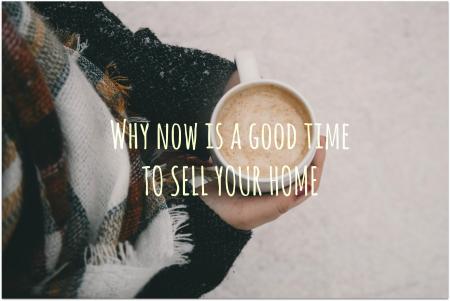 We all know that moving home can be stressful, especially if you're a previous homeowner trying to prepare your old house before settling into a new one. There are a lot of factors to consider, like finding the right estate agent, comparing house removal costs and the current state of the local property market that sometimes you question whether it's even the right time to continue.
To ease your mind throughout the process, we've discovered the prime times to be selling and why now is actually a good time to do so. We have also added a few useful tips for when you're ready to commit, preparing you for those all importnant viewings.
Reasons Why Now is a Good Time to Sell Your Home
● Selling Your Home in the winter months
With Brexit affecting the property market and making buyers more cautious, selling your home now may seem like a daunting task. However, it could be the best decision to make as there has recently been a 1.1% boost in house prices since the Brexit delay. With prices rising, a sum of up to £3,500 could be added to the value of your home. Patience is key but now is a great time to sell. Many buyers are becoming more impatient, wanting properties now rather than later. The uncertainty of the market has actually increased the number of first-time buyers this year, improving the pool of potential viewers.
● Early Spring as a time to sell
Spring can be a prime time to put your home onto the property market! Spring is one of the best times to sell your house, with March, April and May being the preferred months. With Easter bank holidays allowing buyers more time to browse, houses sell more quickly, spending less time on the market. With the dull, dark Winter days disappearing, Spring introduces blooming gardens, more daylight and a better atmosphere in general for house hunting. Early Summer is also a great time to sell but once you hit August, it often begins to deflate again. Everything comes back to life in Spring, including buyers.
5 Tips to Help Prepare Your Home Before Selling
Declutter and Depersonalise
Prepare early and get your home looking as clean and inviting as possible. Don't leave everything until the last minute. Bathrooms and kitchens should be given extra care as they are prime areas that buyers will want to inspect. Prepare the house as if you were viewing it, think about what factors you'd be looking for in a home.
Whilst you're cleaning, don't forget to depersonalise the rooms. This step is important as it allows viewers to picture themselves living in the space. Family photographs, trophies, niche ornaments, everything personal to you should be temporarily removed. You could keep a few unusual items on display to add colour or interest but the house needs to be a blank canvas for potential buyers.
You could also start decluttering your home ready for moving day. The more unwanted items you get rid of, the easier the cleaning process will be. It'll also save you money in the long run as the less you have to move, the less you'll have to pay. You could even try the KonMari method of decluttering to get you started.
Fix Any Cosmetic or Minor Issues
Sometimes, the biggest help when selling a house is something as simple as giving the rooms a fresh coat of paint. Keep the decor as minimal as possible and stick to white or neutral colours to allow viewers to imagine themselves adding their own personal touch. Use high-quality paint to ensure less maintenance is needed for future tenants.
If there are any minor but obvious issues, it would be wise to fix them before any viewings are booked. Small tweaks can make a huge difference. Replace fixtures like dated light fittings, replace light bulbs or fix any doors that won't close correctly. A well-maintained house is vital for a good first impression.
Ensure Your Garden is Well-Presented
Many viewers can be reluctant to buy when the garden is overgrown or untidy. It would require a lot of future work and expenses, discouraging them from buying. You don't need to go overboard but simply prune any overgrown plants and perhaps rearrange any furniture to appear more homely. Cleaning gutters, decluttering any mess, fixing uneven paving slabs, every little step can help make your home appear more desirable.
Make the Most of Natural Light
Creating a bright and inviting home is vital when selling your house. Natural light is a key factor that can change the atmosphere of any room. Open the windows, add mirrors to reflect the Spring light, create a cheery and larger looking room that'll impress the viewers.
If your property doesn't have an abundance of natural light, simply replace dim light bulbs, add small lamps, take down the curtains, repaint darker rooms, anything that can make the home seem as bright and airy as possible. The more appealing and cared for your house looks, the more attractive it is to viewers.
Hire a Reliable Solicitor or Conveyancer - get the legals ready!
One of the most important factors when moving house is the paperwork. Ensure that you hire a reliable conveyancer or conveyancing solicitor to aid you in the legal aspects of buying and selling a house. With a conveyancer on hand, they can answer any questions you may have and help complete the contracts, giving you peace of mind. You need to be just as prepared as your house will be.
It's important to get everything in order before the transaction. By having someone to aid you in the paperwork, you'll feel a lot more organised and fully prepared to sell your home. The more help you have, the more efficient the process can be.
Whether you are on the market now or planning on being we would love to help you. Just give us a call on 01364 652652 or contact us at hello@sawdyeandharris.co.uk - we will be waiting !
Images Source: Photo by Brigitte Tohm on Unsplash